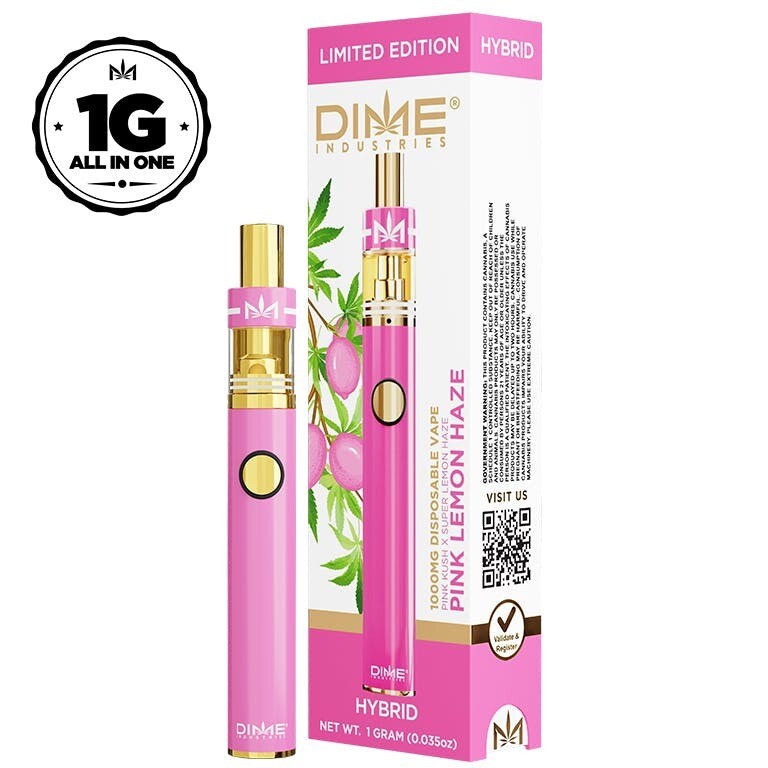 DIME Disposable Pen 1000mg
420
Product Details
DIME Industries 1000mg Disposable Vape Pen All-In-One Device
DIME Industries brand-new 1000mg Disposable Vape Pen is now available in full gram sizes. Enjoy the convenience of these disposable weed pens and the classic DIME flavors you know and love, including DIME OG, Strawberry Cough, Peach Kush, Watermelon, and more. This all-in-one 1000mg DIME Disposable Pen device brings together the best in class features to deliver pure, potent, and consistent vaping sessions, such as multiple heat settings and a modern user experience most brands lack.
Infused with live resin and crafted with 100% solvent-free oil, these 1g DIME disposable vape pens boast potent overall total cannabinoid levels exceeding 90%, while ensuring the flavor and terpene profiles are delivered cleanly and as intended by using DIME's own proprietary vapor technologies. This 500mAh disposable battery is complemented by three heat settings, giving you total control over your vaping experience.
DIME's advanced zero-waste and recessed atomizer guarantees no oil is wasted, while the inverted dual ceramic plates provide optimal combustion and flavor preservation. As one of the few brands using premium quality food-grade stainless steel, their patented disposables are second to none. The proprietary heating curve heats up to 425 degrees instantly, ensuring a no-burn experience and consistently even hits for a full-flavored yet smooth vaping experience.
The child-resistant, tamper-proof packaging and third-party validation sticker offers security and peace of mind, so you know you're enjoying an authentic DIME product and that the potency is exactly what the sticker says it is. Here are just a few of the unique flavor profiles and effects of each DIME strain:

DIME OG: A powerful indica with diesel, lemon, pine, and sweet notes, this strain delivers a happy, sleepy, and euphoric experience.
Peach Kush: A mellow indica with earthy undertones, a sweet peachy body, and a creamy finish, perfect for all-day relaxation and focus.
Strawberry Cough: A classic sativa with a skunky backbone and a delicious strawberry taste, this strain leaves you happy, uplifted, and energetic.
Watermelon: A refreshing hybrid with hints of cucumber, Watermelon delivers a relaxed, happy, and euphoric experience reminiscent of summer days by the pool.
Forbidden Apple: An enticing Indica with exotic apple and earthy flavors, this strain offers a relaxed, euphoric, and sleepy experience, ideal for unwinding on a leisurely afternoon.
And more!
Discover the game-changing vaping experience of DIME Industries' 1000mg Disposable Vape Pen, and enjoy a true quality cannabis product with unmatched flavor, potency, and convenience.
DIME Disposable 1000MG All-In-One Device
Live Resin Infused
3-Heat Settings
500 mAh disposable battery
Made with 100% solvent-free oil and cannabis/botanical-derived terpenes to ensure purity
Potent Cannabinoid levels exceeding 90%
Zero-waste atomizer so no oil wasted
Inverted dual ceramic plates for optimal combustion and flavor preservation
One of the only brands to use premium quality food grade stainless steel
Proprietary heating curve that instantly heats up to 425 degrees for no burn and consistently even hits
14mm Diameter cartridge to fit water pipes
Child-resistant packaging/tamper proof
Validation sticker – counterfeit proof
Check out our full gram DIME Cartridges and official DIME Battery if you're looking to ditch the disposable and get serious about elevating your DIME experience. Buying a battery and 1g DIME cartridge is more cost effective. Therefore, if you enjoy DIME and want to stick with them, this is the way to do it! Whether you live in Irvine, San Clemente, Mission Viejo, Newport Beach, or anywhere else in Orange County, our marijuana delivery drivers are standing by. Order today for quick weed delivery in Orange County!



DIME'S Newest Addition, Forbidden Apple: A Tempting Fusion of Sweetness and Mystery
Check out DIME's latest flavor Forbidden Apple, with an alluring flavor that'll keep you coming back! Forbidden Apple from DIME is a pure Indica strain crafted by crossing Forbidden Fruit with Sour Apple. This unique and captivating blend offers a sweet, earthy experience that will leave you relaxed, blissful, and sleepy - the perfect choice for unwinding during a lazy afternoon.

Genetics: Forbidden Fruit x Sour Apple

Effects: Relaxed, Euphoric, Sleepy

Primary Terpenes: Myrcene, Humulene, Linalool
Save this product for later
Must Be 21+ To Order Weed Delivery in Orange County
ID must be provided for the first time on all orders, this is non-negotiable as it is required by law. Whether ordering cannabis delivery or making a trip to the weed dispensary, a valid ID is essential. Furthermore, the person making the order must be the one to receive it. We thank you for your understanding!
We would really appreciate if you would leave a review for us on Yelp. We're always seeking to improve and any comments or criticism are more than welcome! So please take a moment to share your experience — you'll receive a free gift with your next marijuana delivery!
All Prices Include Applicable Taxes
Order Weed Delivery Today and Pay Using Venmo, Cash App, or Zelle!